Social Media Influencer – Traveling Bangladesh
Deshghuri in intended to give personalized experience to its every guest. Depending on the guests preference we arrange tour that focus on culture and people, food, nature, wild life, ethnic & unique culture discovery.
A good number of social influencer has visited the country and allowed their viewer to experience Bangladesh digitally before the Covid-19 pandemic.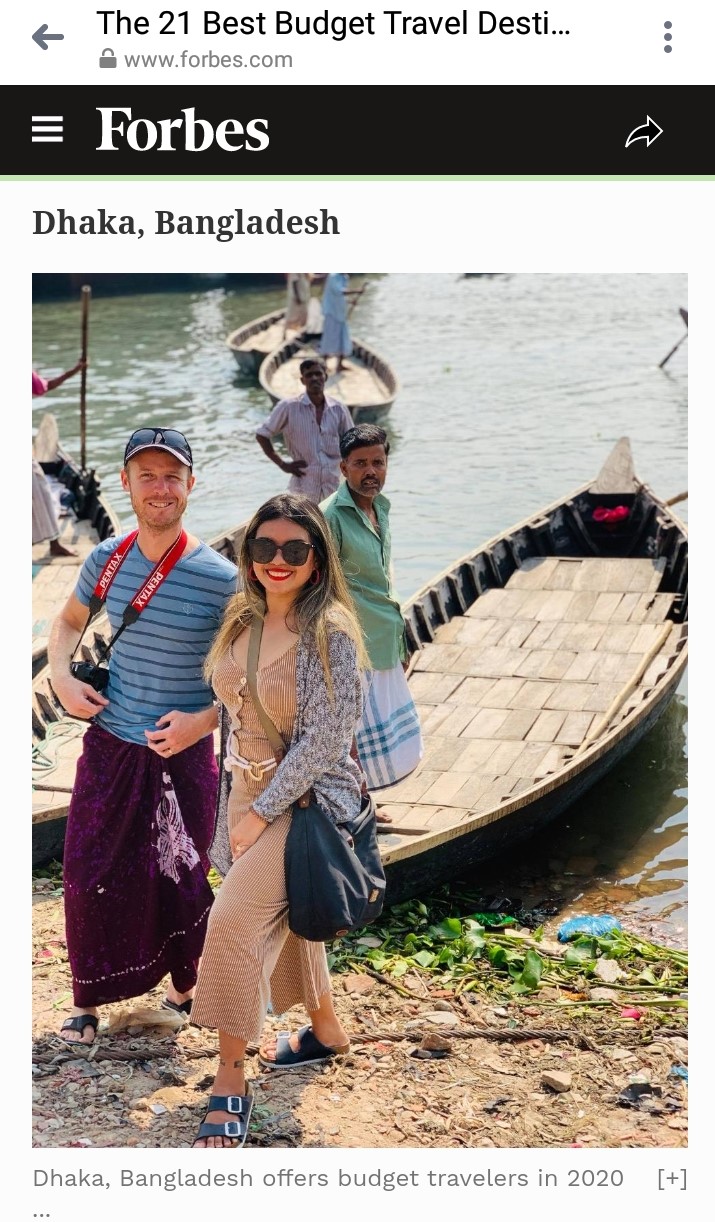 Featured in Forbes
Our tour experience features in The Forbes magazine through the experience of Two Monkey Traveller's experience. Forbes 
1 Week - 1 Million View
Yes, she is one of the most influential vloggers in Thailand. Her story has no borders, as they truly picked up inside. We didn't know that she was someone very special because of her simplicity but it turned out to be a great experience for us…
Here is the story of I Rome Alone, Traveling Bangladesh…
kristijan iličić - from Croatia
KRISTIJAN ILICIC (@kristijanilicic) is one of the most influential travel vloggers from Croatia. 3 years in a row, he is awarded  "Best Travel Blogger in Croatia" and he is the brand ambassador of different global brands for his outstanding contribution to picking up the inside stories during his travels around the world. We were delighted to serve him for a short trip to Bangladesh. We wish if we would have known his work earlier, we could have taken to fly a drone in Sundarban to capture something amazing…
Love Food ? here is MrHotsiaAEC
MrHotsiaAEC – the Thai food vlogger having near to a million subscribers with different channels explored Bangladesh and covered Bangladeshi food verities. If you are a Foodie or Love cooking, surely it's fascinating to watch his works.
He traveled around the country and even covered Urban and Rural Bangladesh home cooking doing a homestay.
Here is the story of MrHotsiaAEC …
Fishing with Otters and Cooking in Homestay in the remote village of Bangladesh
Bloggers Experiences on Bangladesh Trip
Throw back Monday! Enjoy this one from a year ago once again. One of my favorite experiences.
Downstream from India, the main distributory of the mighty Ganges changes its name as it flows into the delta towards the Bay of Bengal. Here…
from Middle East - Solo Female Influencer
Fatimah Ahmadi فاطمة  – very unlikely from the middle east, she is a solo female traveler traveling around the world and spreading the friendship flag of Kuwait. She described herself as a Documentary Traveller and story Teller from Kuwait but also has an identity of being a business owner. Having 330K followers only on Instagram, she is inspiring women, cross-cultural exchange in her wall of travel stories.