Karin Moorhouse – Travel Writer. Splendid Storyteller
At Deshghuri.com we pride ourselves on tailoring itineraries to suit individual needs. So when Karin Moorhouse and her husband, Wei Cheng challenged us to focus on the main archaeological and historical sites of Bangladesh, our team responded enthusiastically. Theirs was not a usual request, but it was with a sense of pride that we proposed ideas that enabled us to reveal the rich spectrum of historical sites across Bangladesh and push the boundaries on an ordinary itinerary.
Karin and Wei have lived and worked in five continents, and for more than 30 years they have traveled extensively around the globe. Wei is a surgeon-scientist who loves to paint, while Karin is a business consultant who loves to write. Together they share a passion for culture, history and travel. They visited Bangladesh just before the world shutdown for the Covid-19 pandemic, but on their return, they shared their stories.
It is therefore a privilege to share these directly with you. The stories not only weave a personal narrative about the places they visited but are informative and well researched, giving us new insights and perspectives on beautiful Bangladesh.
Their knowledge and passion inspired us all and we are forever thankful to Karin Moorhouse and Wei Cheng for sharing this extraordinary contribution with us, and hope you enjoy them too.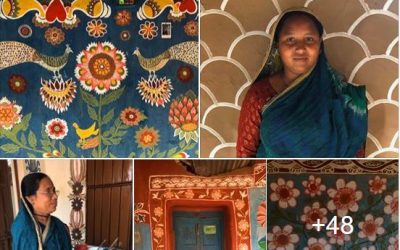 "Which way to Tikoil, the folk-art village?" asked Mani, our guide about a place where even he had never ventured. An old farmer in the paddy fields waved us on, so we drove on for miles more along serpentine lanes. I wasn't really sure what to expect of the village as it wasn't in the plan. A few craft shops full of things we didn't want or need? I was wrong of course, for I could see nothing when we pulled up near some adobe mud houses; northern …